Indian opener Rohit Sharma added another feather to his cap on Wednesday. Batting at his home ground against West Indies in the final T20I, the HITMAN became the first Indian batsman to slam 400 sixes in international cricket.
After failing to slam even a single maximum in previous two outings, Rohit reached the milestone on the first ball of the 3rd over. Sheldon Cottrell got the length wrong as he bowled slightly short. Rohit swung across the line and sent it over mid-wicket despite not getting the middle of the bat.
Here's the video:
With this shot, Rohit notched up the 400th sixth of his international career. Having already surpassed Brendon McCullum in the list, Rohit is the third batsman to hit most sixes in international cricket. Universe Boss Chris Gayle leads the charts with 534 sixes while former Pakistan skipper Shahid Afridi stands second with 476 maximums.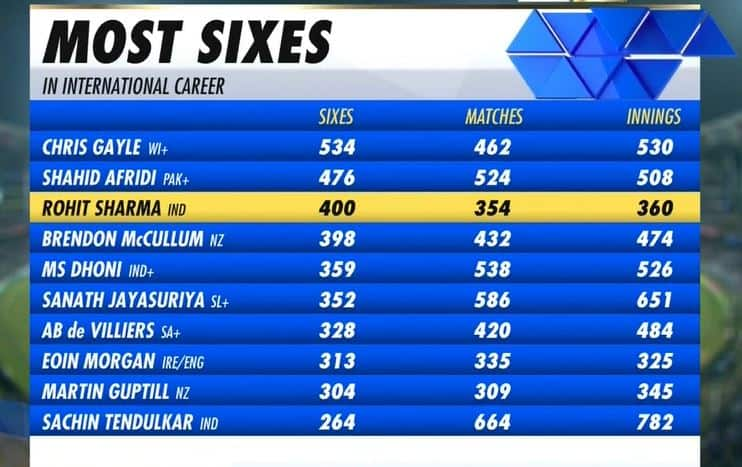 Image Courtesy: Hotstar
Among Indian cricketers, MS Dhoni is listed after Rohit with 359 sixes followed by former batting legend Sachin Tendulkar who had hit 264 maximums.
Rohit has been a stalwart for India at the top of the order in limited-overs cricket. While his Test career did not hit the same heights for a long time, the Indian team's decision to let him open the batting seems to have done the trick.
In his first series as India's Test opener against South Africa in October, Rohit broke the record for most sixes hit during a Test series by hitting 19 maximums. He scored a whopping 529 runs in four innings which included a maiden Test double ton.